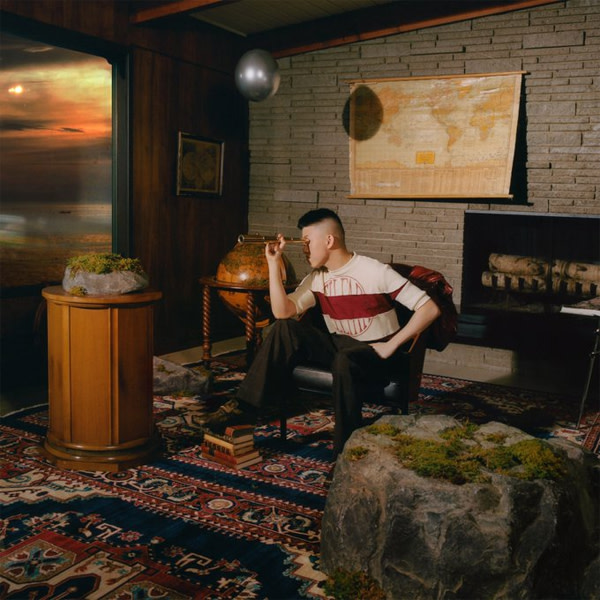 With The Sailor, Rich Brian faces two primary struggles: the ability to stand out in a proud genre that suffers ridicule (and in many cases rightly so) and oversaturation and the dreaded sophomore slump. The struggle that any hip-hop/rap artist faces is drowning in the sheer number of albums and songs produced every day – any aspiring acts tend to be swept under the rug of Soundcloud rappers and poorly made bedroom beats with mumbled words about flings and rivers of expensive alcohol.

Rich Brian, previously Rich Chigga, rose to critical acclaim after his first viral single Dat $tick, and shortly after struck a record deal with 88rising, a primarily Pacific Islander/East Asian/Southeast Asian label. We will confess – his debut effort, Amen, didn't capture my attention or pique our interest as much as we had hoped, considering his enormous potential seen in initial singles, 'Dat $tick', 'Seventeen', and 'Back At It'. Amen felt scattered, more spread thin musically.

That being said, The Sailor, proves to be an astounding and impressive gem in Brian's body of work, conquering the aforementioned sophomore slump, and stands out in the hip-hop/rap genre for many reasons.

The Sailor finds itself more melodically intricate and surprising, humorous even – drawing from a variety of instruments, both analog and digital, occasionally mixed. The eponymous intro track, begins with hazy, worn muzak, voices and lightly chorused guitar, reminiscent of easy listening one would find themselves listening to in an elevator. It quickly transitions into a hard hit with 808s and punchy snares, a fun, bouncy track, something typical of any good rap/hip-hop album. The kicker is when the delay trails on Brian's voice gives way to cinematic strings and spoken word, "Woke up this morning/Nothin' in the fridge, nothin' to eat/My stomach talkin' angry to me/Went outside, forgot to brush my teeth…" A Queen-esque chorus follows, creating a quirky little skit – a dialogue between Brian and a little girl outside of a corner store. Thematically, the last stanza sets the tone for the album, making it a cohesive whole.

"Where do we go when we die?/What is the color of blue if there isn't a sky?/What is the meaning of life?/What is a life if a moment can end in the blink of an eye?"

Rich Brian wastes no time by immediately launching into 'Rapapapa', with clean electric guitar and tape stops, reminiscent of Polyphia's 'New Levels New Devils', and new levels indeed: Rich Brian retains his trap roots while keeping the song feeling fresh and new with his new found sense of melody. It concludes with spoken word by famed RZA of the Wu-Tang Clan, serving as an ease-in to the ballad-esque 'Yellow', awash with electric piano and sweeping strings, concluding at the end with almost melancholically triumphant strings. It asks, "How do I disappear without anybody knowing? Will anybody even miss me when I'm gone?" and contrasts this existential anxiety with his success, despite being a minority and the ability to create art with soul that can't be commodified.

'Kids', a boom-bap with anthemic bombast and ecstatic trumpeting brass, a refreshing contrast with its previous tracks by its nod to the 90s and predecessors in US East Coast rap, which seems appropriate considering that Brian, "used to be the kid, now the kids wanna be me." It seems as though it pays homage to his predecessors, "R.IP. Nipsey, R.I.P. Mac," while he raises a banner for people of Asian heritage in the circle of media, saying, "Tell these Asian kids they could do what they want/Might steal the mic at the GRAMMYs just to say we won."

'Drive Safe' is characterized by finger picked electric guitar and melodic bars, it has an almost indie touch, a very light indie touch. That touch is quickly turned into neo-soul and RnB come the chorus, and with Brian's more melodic drive, strings become frosting, delicate layers on the outro. It reminisces precious moments, especially in reference to a lover, that end in blinks of an eye, like drinking milk with cookies and cream, "I swear, where did the good times go?"

'Confetti', is probably the track stuck out the most to me, with its humorous twist in the intro. If you've not listened to it – go listen to it, you'll immediately find that the dream-pop, almost even psychedelic, intro quickly crawls to a stop, replaced by a party banger, bragging about fame, but there's a subtle nod to his immigrant origins, "got my mother's face and my father's confidence."

'Vacant' serves a moody, more slowly driven beat, and at first glance it seems shallow, but it continues on its existential theme with the impermanence and uncertainty of stability of relationships, "Shit, you never know, I might just leave her ass one day, we'll see.)

It's followed by 'No Worries' which croons a dreamy chorus with pulsing hits in the background. '100 Degrees' is a song one might find blasting on a car stereo, with the windows down, driving along a coast and palm trees waving under the weight of a humid summer breeze.

'Slow Down Turbo' has old piano plucking in the background drenched in reverb over a trap beat, hard stopping to make way for another Queen-esque chorus, which hard stops again to give way a hard hitting, minimal beat with sine-wave based synths as Brian spits faster and faster. Again, it references the existential question, "What is a life if a moment can end in the blink of an eye?" by saying, "Slow down, 'cause you're movin' too fast for the world."

'Curious' would not be found out of place on a Kina Grannis album or even a Lullatone album if not for the well phrased rapping – but Brian finds himself reflecting on the state of his life now and comparing it to before, and the progress it took to be the person that he is now. He recognizes that every moment has made him the person that he is now, "If I could, man, I would never change shit."

The album closer, 'Where Does the Time Go', featuring labelmate Joji (George Miller), finds itself to be a blend of Joji's compositional style and Brian's new found melodic sense. It's a somewhat mild, even a little bland, of a closer, and leaves a little to be desired, but a mild closer is better than a terrible one, and it adequately ties the album together.

Overall – it is a stunning effort, not without flaws, but stunning nonetheless, beating Amen out of the park. Not only is it musically proficient, but Brian's attempts to encourage Asian youth to pursue their dreams by explicitly telling them that they should and showcasing his immigrant and Indonesian heritage come through loud and clear. He pays clear homage to his Indonesian roots and his family.

One of the goals of The Sailor, as said in an interview with Brian by Dazed, was "to make sure that with this album, it would be listenable from front to back. I wanted them to not skip it." Brian also stated that albums in recent years, "[feel] like a folder of songs with three or four hits in it." It defies the single oriented releasing of music that has become popular in recent years, and creates a corpus that creates context for the songs that it contains.

Lyrically, there is a lot left to be desired – The Sailor is not exempt from the objectification of women and some of the most common clichés of hip-hop/rap (like money and fame), as seen in grotesque lines like, "Woke up with a bitch, we didn't have a conversation, man/She just creamed on my dick" and "Your girl, my girl, it's all the same when she swallowin'/Aim my dick and I shoot her abdominals/…I just gave you dick, girl, why do you keep askin' for a present?"

However, to not throw out the baby with the bathwater, it is also an honest body of work that attempts to express Brian's heritage and attempts to empower aspiring artists, especially immigrant Asian artists, to pursue and follow their dreams, because Brian accomplished what he set out to do. It is musically crisp, well-produced, and diverse and cohesive, retaining the listener's attention throughout the entire album. It is ultimately an exploration of Brian's fame achieved at the young age of 19, and his exploration of what that looks like and how it manifests in his life.

"Where do we go when we die?/What is the color of blue if there isn't a sky?/What is the meaning of life?/What is a life if a moment can end in the blink of an eye?"

Perhaps it's an unconscious finger at the consequences of fame that are pushed on celebrities today, as well as the ways in which we distract ourselves from the subsequent absence of meaning, whether it results from a lack of fame or an acquiring of it. Maybe it's a nod to how we scrutinize celebrities with keenest of eyes, "I'm feelin' pressure from my job lately/I guess if I don't drop a song today, then I'm just lazy/I haven't dropped a thing in months, so what does that make me?/But then again, I'm somewhat famous, you supposed to hate me…"

Despite its lyrical flaws, which should not be ignored, The Sailor is a musical and social force to be contended with and to not be taken lightly.

Or perhaps it is – it's a fun album.

Take it both lightly and not.

It's good to be taken both ways.

3.5/5

Follow @FormantMagazine on Twitter and Instagram for the latest on Southeast Asian music. You can also catch Nathan Kwon on Instagram.